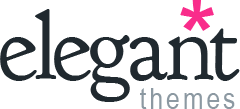 Elegantthemes.com offer an incredible 80 WordPress themes divided into ten categories, of which the largest are Blog, Business, Magazine and Personal. Each team regardless of the category is packed with shortcodes (16) and page templates (8). The unique part of their service is provision of an ePanel for themes management, through which color scheme, menu, layout, adds placement, SEO settings can be configured in visual mode.
Through subscription for an annual fee of just $ 39 you get access to their entire themes stock. The themes you download during your subscription term are yours forever. Not only that, you have the right to use the themes in developing websites for 3d party and sell them for no additional fee. $39 for 80 themes is nearly half the price that most of other themes providers charge for a single theme download, which means that each single theme costs a miserable 49 cents.
For $89 per year Elegantthemes.com give full access to all their plugins in addition to the themes, an option which the developers and webmasters may find special interest in. The subscription secures you access to all the theme updates and support.